Some of the Most Senseless Yet *Convincing* Reasons to Partayyyyy!
Some of the Most Senseless Yet *Convincing* Reasons to Partayyyyy!
Ever been in a phase where you needed excuses to have a party? Well.. in case you feel the need to convince your brain. Or your parents. Or your friends, worry not. We've got many insane, somewhat senseless, still convincing reasons to party!
Read on.
Excuses to Have a Party – Brought to You by 9ightout
1. Good Hair Day
It is a rarity for a person to be blessed with good hair days, and when they actually are, it's a big enough reason to party. The beer cans just come popping out and it's party time already!
Lame? NEVER!
2. Your Dog's Birthday
Do you know what is the best reason to party? Your dog's big day a.k.a. birthday! I'm sure he is the best thing to have happened to you and his birthday is definitely a BIG reason to partayyyyy!
3. Albert Einstein's Birthday
The famous scientist needs to have a celebration for his birthday, doesn't he? In fact, there should be a celebration for the mere fact that he was born. Oh, buoy what a reason to party!
If at any time you feel thankful for his contribution, ring in a partyyy!
4. New Season Launched
Whenever Netflix launches a new season of your famous show, you know it is party time. Just call over your peeps for a *Netflix and chill* session and you are all set.
5. Break Up Party
Now that the guy has already left your life, why be sad about it? Especially when you can be all happy about it and party hard too.
A breakup party sounds fun too, doesn't it?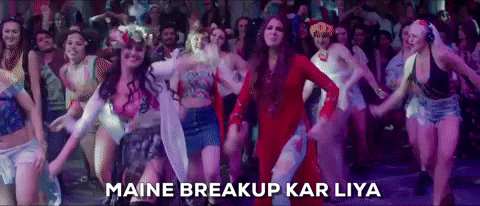 6. It's Your Half Year Birthday
Celebrating birthday's are too passe, aren't they? Just have a celebration for the completion of your half year birthday. After all it's totally cool and you get to celebrate the pious occasion of yourself being born too.
7. You have finally decided to quit your job
Now, this is a big reason to party and I am sure you all would agree. Just quit your job and call over your friends to let them know that you have done the unimaginable.
This party HAS to be FUN.
8. You worked out six days in a week
When you are finally able to hit the gym 6 times a week, there is definitely a reason to party. When your fitness goals are on point, do you even need anything else? Nah-ah! Time to party now!
9. Your Boss Got Fired
We all want this to happen, don't we? And, in case this happens, you know what kind of a sadistic pleasure you'll get. The feeling is similar to what your boss has when he tries to act smart.
Now that he has been fired, let him know how happy you are.
Calls for a party? Of course!
Basically, what we are saying is….just party hard and don't look for a reason behind it. Every time is a good time to party so just pull up your party socks and have all the fun you want.
What reason do you want to party because of? Let us know in the comment section below.