9 Things Screaming You Are in Love with Alcohol!
9 Things Screaming You Are in Love with Alcohol!
Scotch/Vodka/Whiskey what's your favorite? Well, if you can't choose one and even the hangover doesn't shake your love for alcohol, then you, my friend, are in LOVE with booze. Probably, no matter how big the situation is, liquor takes care of it all. And that's the kind of commitment we all need. Right? This unbreakable bond needs a special celebration and yes, we're doing that. Here's raising a toast to your loyalty and a round-up for the same!
These 9 Signs Are Saying You Are in Love with Alcohol… Are You?
Before we jump to any unnecessary conclusion, let's take a moment and say Cheers. Cause no matter what, alcohol will be there, any given time. 😛 Guys, hold your breath and let's know whether we love to drink or it's just casual. 🙂
1. Anything and Everything Calls for Liquor
Birthday, promotion or even break up, there's one answer – Let's Drink.
2. Your World Lights up When Alcohol Is Around
Of course, the happiness is incomparable. It's just like a kid gets his favorite book…. or err, bike.
3. And, Likewise, It Turns Sad When It's Not
Not to mention, it is one of the most obvious signs of an alcohol lover. But, who cares, no liquor makes parties boring!
4. You Own It
Be it 3 shots or 7, you know how to keep hold of yourself. And, also, you can continue drinking.
5. Stress? What's That?
Just bring me 4 beers and watch me beat the shit out of stress.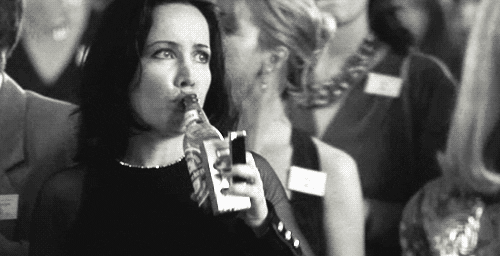 6. That Craving…
Even though it has been a weekend or two that you haven't had a drink, it bothers you.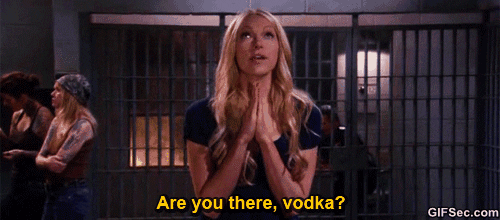 7. Also, There's No Halting to It
Obviously, that open bottle of whiskey urges you to finish it. So, it's either you are in love with alcohol or you've adopted the behavior of an alcoholic.
8. Dry Day Doesn't Exist
Crossing all borders and boundaries, you get to your sweetheart anyhow. And, certainly, you own the stock as if dry days are gonna last for a year.
9. You Enjoy Its Buzz
Not to mention, your tongue knows the taste of every brand. Also, you enjoy every bit of liquor. To put it differently, you fly.
So, did you find out whether you are in love with alcohol or not? Well, we did! Pop the comment section if you've more of these love situations. Also, tag your friends who share the same love.
Gifs@Source.