9 Scrumptious Bhang Delicacies You Must Try This Holi Party!
9 Scrumptious Bhang Delicacies You Must Try This Holi Party!
How would feel if you could get high as much as you want without tasting the bitter liquor? We hope you would say happy. Well, not to mention, we've got some of the most Scrumptious Bhang Delicacies that will make your Holi celebration double fun. So, are you ready to ride the food train?
These 9 Scrumptious Bhang Delicacies Will Make Your Holi Delicious
Pockets filled with lovely colors, water guns loaded with mischief, old-new songs, and the pleasant spring breeze – Ah, we love Holi! Therefore, to make it one heck of a lovable festival we've 9 Scrumptious Bhang Delicacies that you'll want over and over. These Holi food & drinks will be the best thing happened to you.
1. Gujia
If there's no Gujiya in a Holi celebration, the celebration is an epic fail. So, here's what you'll be needing for the combination of sweet plus naughty.
Ingredients:
4

 

cups

 

maida

8

 

tbsp

 

ghee

1

 

tsp

 

Salt
For Filling:
500

 

g

 

khoya

6

 

tbsp

 

Dried Coconut

20

 

cashew nuts

 

chopped

20

 

Almonds

 

blanched and chopped

40

 

raisins

tsp

 

½cardamom powder

300

 

g

 

powdered sugar

Bhang (as per your choice)
How to prepare:
Mix ghee into the flour and knead into a stiff dough with water. Cover it with a damp cloth for at least half an hour.
Saute the khoya till it looks slightly fried.
Let it cool, and then, mix in the bhang, sugar, cardamom, raisins, coconut, 

cashew nuts, and

 almonds.

Roll out dough balls into small flat circles, put it on the mold.

Place the stuffing in the center and apply a little water on the edges, fold into half and press the edges firmly to seal the gujia.

Also, keep gujias covered with a damp cloth.

Repeat till you're finished.

Heat ghee in a kadhai and fry until golden brown.
2. Thandai
When there is Gujia, Thandai has to accompany it. After all, its one of the most demanded Holi food & drinks.
Ingredients:
1 1/2 liter – Water
15 cannabis (bhang seeds)
1 1/2 cups – Sugar
1 cup – Milk
1/4 cup – Dried or fresh rose petals
1 tbsp – Almonds
1 tbsp – Melon seeds (dried and skinned)
1/2 tbsp – Poppy seeds (khus-khus)
1/2 tsp – Cardamom powder
How to prepare:
Take a pan and add 1/2 liter of water and sugar to it. Let it boil for 2 hours.
Now in a separate bowl soak all the other dry ingredients in 2 cups of water for at least 2 hours.
Later, grind these soaked ingredients into a fine paste.
Mix remaining water to the paste and strain it in another vessel until the residue becomes dry.
Now, add milk and sugar syrup to this strained mixture.
Add the cardamom powder in the milk.
Keep it for chilling in the fridge for 2 -3 hours before serving.
Serve it cold with some chopped almonds.
3. Bhang ke Pakode
After a long day's fun, settle down with some sumptuous Bhaang Ke Pakodas.
Ingredients:
250 gms Besan
200 gms Potatoes
150 gms Onions
100 gms Spinach
10 gms Bhang (cannabis) seed powder
2 gms Soda-bi-carb
5 gms Ajwain
Salt to taste
Oil for deep-frying
How to prepare:
Wash and cut the vegetables into big chunks.
Furthermore, mix besan, soda-bicarb and salt together.
To this mixture add bhang seed powder, ajwain and red chili powder.
Now add enough water to make the batter of dropping consistency.
Heat oil in a kadhai.
Mix the vegetable pieces in the batter and drop them in the kadhai.
Then, deep fry them on medium fire till golden crisp.
Bhang pakodas' are ready to serve.
4. Bhang ki Chutney
Wouldn't pakode be bland if there's no chutney to accompany?
Ingredients:
50 gms bhang seeds
2 green chilies
3 Tbsp lemon juice
2 Tbsp mint leaves-chopped
3 Tbsp water
1/2 tsp salt
How to prepare:
Roast the bhang seeds and then grind them in the grinder.
Moreover, add the green chilies, lemon juice, mint leaves, water and salt and grind to a paste.
The chutney is ready.
5. Barfi
For those sweet tooths in the house, we've something melting and delicious.
Ingredients:
1 cup Khoya
1/2 cup badam powder
15-20 Bhang seeds
Cardamom powder
Water as per requirement
Ghee as per requirement
Sugar according to taste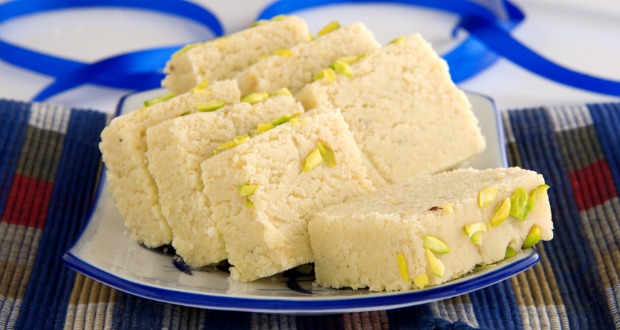 How to prepare:
In a pan, add khoya, crushed bhang seeds with water and bake on simmer until it dissolves.
Then, add badam powder, ghee, sugar, cardamom powder and stir until the mixture gets thicker.
Grease a plate with ghee and add the mixture to the plate. Spread it evenly and leave aside to cool.
After an hour or so cut the mixture into the desired shape and garnish with almonds.
You can also garnish with silver foil.
6. Kanji ke Vade
Since you can not always offer sweets, here is something everyone will adore.
Ingredients:
Water – 2 liters
15-20 Bhang seeds
Asafetida (Hing) – 2 pinches (optional)
Turmeric Powder (Haldi) – 1 teaspoon
Red Chili Powder – ¼ teaspoon
Yellow Mustard (Peeli sarson) – 1 tablespoon
Salt – 1 teaspoon
Black Salt (Kala Namak) – 1 teaspoon
Mustard Oil – 1 tablespoon
Moong dal/Urad dal – 100 grams (1 teacup)
Salt – to taste
Oil for frying
How to prepare:
Soak the moong/urad dal and rai overnight and then grinding them into paste form.
Add salt and beat.
Heat oil in a kadhai. Make small vadas and put in oil. Furthermore, fry till they turn brown.
Soak vadas in lukewarm water for 15 minutes. Drain water after 15 minutes.
Boil water in a vessel.
Then, pour this cool water in some glass or plastic container.
Add asafetida, turmeric powder, bhang seeds, red chili powder, yellow mustard, salt, black salt and mix well.
Close the lid of the container and keep aside for 3 days. Don't forget to stir once in a day.
7. Paani Puri/Gol Gappe
These little packets of joy are real simple to present. Buy a packet of dry puries.
Ingredients:
Coriander leaves
Few mint leaves
Pinch of ginger
Bhang Seeds
1 green chili
¼ cup tamarind juice
2 cups water
½ tsp cumin powder
¾ tsp chaat masala
Salt to taste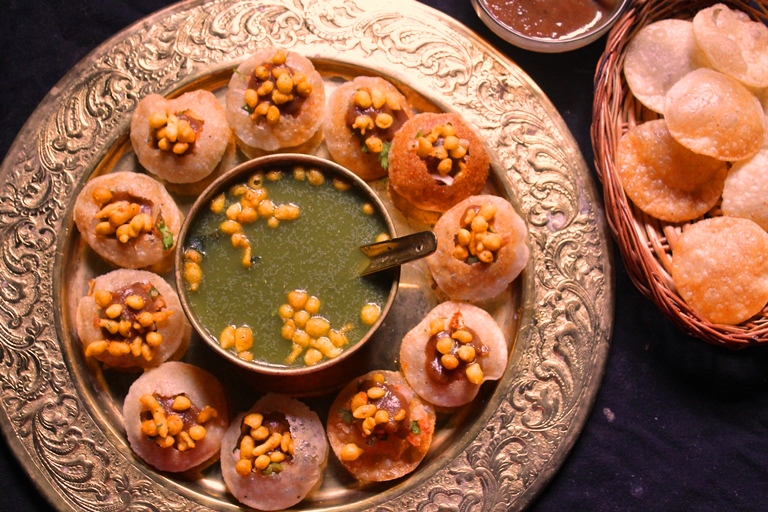 How to prepare:
Firstly, in a blender jar put the fistful of coriander leaves and mint leaves.
To that add ginger, bhang seeds and green chili.
Add little water and blend.
Furthermore, filter it using a sieve.
Add a cup more water to extract the juice from mint and coriander.
Then, add tamarind juice.
Also, add cumin powder, chaat masala, and salt.
Give a good mix and pani is ready.
8. Malpua
Another sweet dish prepared during Holi is prepared with flour and sugar syrup. Unlike other sweets, this one can be prepared in advance.
Ingredients:
How to prepare:
For making sugar syrup, place water in a pan over medium flame. Add sugar to it and stir until fully dissolved.
Then, add 2 -3 tsp milk and stir again
A few minutes later remove the scum that rises to the top. Cook until the syrup is slightly thick.
Remove the pan from the flame and keep aside.
Mix maida, rava, bhang powder, baking powder, fennel seeds, cardamom powder and rest of the milk.
Also, ensure the mixture is of pouring consistency and not too thick.
Now heat ghee in a pan over low flame. Pour a ladleful of the mixture and spread evenly.
Keep the flame low and cook till it is light brown on both sides. Remove the cooked malpua and drain the excess ghee.
Drop the malpua in sugar syrup and allow it to soak the syrup for 10 minutes. Make more malpuas following the same process.
Drain the malpua from the syrup, garnish with pistachios (optional) and serve piping hot.
9. Bhang Dahi Vada
The sweet, sour and salty taste of this dish is something to die for.
Ingredients:
Urad dal – 1 cup (250 grams) (soaked)
Coconut – 1/4 cup (grated)
Green coriander – 3 to 4 tbsp
Cashews – 7 to 8 (finely chopped)
Black pepper – 1 tsp (crushed)
Ginger – 1 inch (minced)
Asafoetida – 1 inch (minced)
Bhang seeds
Oil – for frying vada
Roasted Cumin powder – 1 tbsp
Black salt – more than 1 tbsp
Red chilly powder – 1 tbsp
Mint powder – 1 tbsp
Green coriander chutney
Mango powder sweet chutney
How to prepare:
Soak the dal in water and keep aside.
Then, take out extra water and add all the ingredients of the vade except oil and grind it into a mixture.
Mix all the filling ingredients in a bowl.
In a kadhai heat oil for frying.
Now, take a tablespoon of the mixture on your palm and then flatten it out. Place some filling in the centre.
Now with the help of water close the sides of the mixture on the hand. It should look like a half moon.
Place them in the hot oil and fry them till golden crisp.
Now dip them in some water for ½ hour.
Beat the yogurt and add milk and sugar to it.
Gently squeeze water from the vade and place them in half the beaten yogurt mixture.
Now in a serving plate lay out the vade and then pour some beaten dahi on them and sprinkle some jeera powder and black salt powder and some sweet tamarind chutney.
So, which one of these Scrumptious Bhang Delicacies are you going to try this Holi? Also, comment and share if you have other holi food & drinks ideas.
Images@Source.